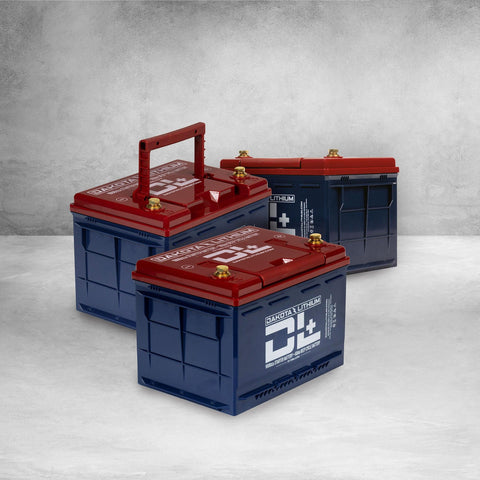 DAKOTA LITHIUM 36V 60Ah GOLF CART BATTERY SET
Built Dakota tough, this 36 volt lithium battery set will help you play longer with twice the run time for your golf cart or electric vehicle, while lasting 4x longer, providing exceptional lifetime value. Built out of our legendary lithium iron phosphate (LiFePO4) cells, this battery set requires no maintenance or watering, can be installed in any orientation, and can charge 5X faster then lead acid – giving you more time, and more freedom on and off the green. The best part is a set of Dakota Lithium weighs 1/4 as much as a set of lead acid golf cart batteries, allowing you to cut 300 lbs or more off your cart. Experience better golf cart handling, less wear & tear, and lower maintenance costs. Drop in replacement for most 36V golf carts. Free 36v 8 amp LiFePO4 charger included.
New battery package combines 3 of our award winning 12V 60Ah DL+ or  you can use the 12V 135Ah DL+ dual purpose cranking batteries in series to create a 36V system capable of 1,000 Cold Cranking Amps — enough to start your car and more then enough power for most golf carts. Other brands of lithium batteries in the past have had issues with the battery shutting off because their golf cart needed more amps then the battery could provide. By using automotive technology the DL+ line of batteries provides both the high power needed for even the most rugged of golf carts, while also providing 18+ miles (60Ah) or 50+ miles (DL+ 36V 135Ah) of lasting deep cycle performance. Battery range varies depending on the size of golf cart, the size of the cart's motor & motor controller, and terrain.
FREE SHIPPING TO LOWER 48
11 YEAR WARRANTY
FREE LIFEPO4 BATTERY CHARGER INCLUDED
BATTERY RANGE 18-MILES w 60Ah or 50-MILES w 135Ah
Suitable for:
36V GOLF CARTS #PLAYLONGER
CLUB CAR 36V GOLF CARTS
YAMAHA 36V GOLF CARTS
LIFEPO4 REPLACEMENT FOR GOLF CART BATTERIES
DROP IN LITHIUM REPLACEMENT
EXCELLENT FOR 36V TAYLOR-DUNN GOLF CARTS
PREFERRED UPGRADE FOR 36V POLARIS GOLF CARTS
IDEAL FOR 36V PAR CAR
COMPATIBLE WITH MOST 36V GOLF CARTS
COMPATIBLE WITH 36V GEM CAR, STAR EV GOLF CART AND MANY OTHERS
SPECIFICATIONS
11 YEAR WARRANTY
World beating, best in class, eleven year manufacturer defect warranty.
STORAGE CAPACITY
Choose 60 or 135 ampere hours (Ah). Dakota Lithium batteries provide consistent power for all 60 or 135 amp hours. DL LiFePO4 batteries have a flat voltage curve, which means they have a steady power output as the battery discharges. The power output will not dramatically drop like similar sized SLA batteries. You get all the juice down to the last drop.
VOLTAGE
38.2V (three 12.8V batteries to be wired in series). This set is intended for 36V applications. (Dakota Lithium 12V batteries can be used in series up to 48V max)
ENERGY
768 (60Ah) or 1728 (135Ah) Watts (Wh) per battery
TERMINALS
F12 terminals (posts that screw in). Easy to adapt to different connection needs. (Max torque 15 ft. lbs.) (Max 5 ft. lbs. if using included terminal post adapters)
SIZE
Drop in replacement size for 12V golf cart batteries. 60Ah is 9.5"L x 6.9" W x 7.44" H (242.5mm x 176mm x 189 mm) Group 24 equivalent OR 135Ah is 9.5"L x 6.9" W x 7.75" H (242.5mm x 176mm x 197 mm) Group 24 equivalent
WEIGHT
16.5 lbs (7.5 Kg). 65% lighter than a SLA or lead battery. OR 27.2 lbs (12.3Kg) per battery for the 135 Ah
LIFECYCLES (BATTERY LIFESPAN)
Up to 80% capacity for 2,000 cycles in recommended conditions. The typical SLA has 500 cycles. Dakota Lithium batteries last so long that the price per use is a fraction of traditional batteries.
OPERATING TEMPERATURE
Ideal for rugged & harsh environments. Much better than SLA or other lithium's. -20'F min, +120'F max optimal discharging temps (battery performs well down to -20'F). Charging 32'F to 120'F. (charge above freezing)
DISCHARGE
100 A max continuous, 650 A max pulse 10 second pulse, 1,000 CCA per battery (a single DL+ battery has the power to start your car). The flat discharge voltage curve provides a 75% bigger capacity then a comparable SLA battery. For carts with a controller greater than 200 Amps the DL+ 36V 135Ah is recommended. If unsure of how many amps your golf cart motor uses buy the DL+ 36V 135Ah or install a 100 Amp fuse if using the DL+ 60Ah.
MOTOR CONTROLLER LIMIT
The 18-25 mile 60Ah battery is compatible with motor controllers up to 400A and can handle up to 650 Amps of in rush current. The 60 mile 135Ah battery has a 400 Amp max for the motor controller. If you do not know how many amps your golf cart's motor uses then we recommend the 50 mile 135Ah battery set. It is compatible with nearly all golf cart motors on the market.
CHARGE
50 A max, 14 V max recommended, 15 V max. Free 36v 8 amp LiFePO4 charger included. A SLA charger may work, but will reduce performance and lifespan of the battery.
INCLUDES ACTIVE BMS PROTECTION
Contains a circuit that handles cell balancing, low voltage cutoff, high voltage cutoff, short circuit protection and high temperature protection for increased performance and longer life. A LiFePO4 battery charger is required to turn the battery back on after a BMS cut off.
COLD WEATHER PROTECTION
Excellent performance and use down to -20'F. Charing below freezing is not recommended. The DL+ batteries include a cold temperature charging protection cut off
INTERNAL HEATING FOR WINTER USE
The DL+ 12V 135Ah battery set includes internal heating for charging when below 0C/32F. Excellent choice for winter warriors.
CHARGER INCLUDED
Free 36v 8 amp LiFePO4 charger included
Experience the Dakota Lithium Difference
The DL+ 12V 60Ah dual purpose battery is built with Dakota Lithium's legendary LiFePO4 cells. 3,000+ recharge cycles (roughly 5 year lifespan at daily use) vs. 500 for other lithium batteries or lead acid. Optimal performance down to minus 20 degrees Fahrenheit (for winter warriors). Plus twice the power of lead-acid batteries at 1/3 the weight.
Processing time
up to seven business days
Normally we use Fedex, UPS and USPS ground shipping.
Not available to Alaska or Hawaii
Estimated delivery time
~10 business days to United States
Brought to you by
AUTHORIZED DEALER
Thanks for shopping with us!
---
More from this collection