24V 60AH DEEP CYCLE LIFEPO4 SINGLE BATTERY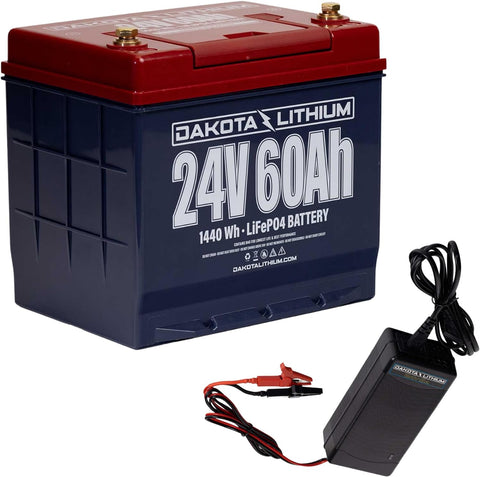 DAKOTA LITHIUM 24V 60AH DEEP CYCLE LIFEPO4 SINGLE BATTERY (includes LIFEPO4 24V 5A charger)
Built Dakota tough and with exceptional energy density, this single 24V lithium battery will power your passion from morning to night. Engineered with Lithium Iron Phosphate (LiFePO4) technology, this single battery has three times the power, one third the weight, and lasts 5 times longer than a lead acid battery – providing exceptional lifetime value. Built for endurance in rugged environments and cold conditions, this battery has a cycle life of 3,000 – 6,000 recharge cycles (8-10 years at regular use) and is backed up by a best in class 11 year warranty. 60 Amp hours (Ah) of capacity is optimal for a full day of fishing with 24V trolling motors, or to be linked in series or parallel for solar energy storage in the home, RV, boat, or off grid applications. Ideal for deep cycle applications in marine environments where you need lots of power for a long time. This battery is a re-engineered version of DL's legendary 24V 50Ah single lithium battery but with 20% more capacity (Ah), 60% more max power (80 Amps max continuous discharge), 50% longer lifespan, 25% smaller size (volume) and 20% less weight. Free 24V 5A LiFePO4 specific charger included.
Suitable for:
TROLLING MOTORS #FISHLONGER
MARINE APPLICATIONS
24V TROLLING MOTORS
LINK IN SERIES FOR 48V
LIFEPO4 REPLACEMENT FOR AGM, MARINE LEAD BATTERIES
COMPATIBLE WITH ONBOARD CHARGING
EXCELLENT FOR MINNKOTA MOTORS
PREFERRED UPGRADE FOR GARMIN MOTORS
IDEAL FOR LOWRANCE MOTORS
COMPATIBLE WITH ALL TROLLING MOTORS
DOES NOT START GASOLINE ENGINES
SPECIFICATIONS
11 YEAR WARRANTY
World beating, best in class, eleven year manufacturer defect warranty.
STORAGE CAPACITY
60 ampere hours (Ah). Dakota Lithium batteries provide consistent power for all 60 amp hours. DL LiFePO4 batteries have a flat voltage curve, which means they have a steady power output as the battery discharges. The power output will not dramatically drop like similar sized SLA batteries. You get all the juice down to the last drop.
VOLTAGE
24V rated (26.6V resting voltage) Dakota Lithium 24V batteries can be used in series for up to 48V systems.
TERMINALS
M8 bolt size. Easy to adapt to different connection needs. (Max torque 15 ft. lbs.)
SIZE
9.1 in (230mm) L x 6.8 in (174mm) W x 8.66 in (220mm) H. Group 24. Group 34.
WEIGHT
24.9 lbs (11.3Kg). That's 70% lighter than a SLA battery.
LIFECYCLES (BATTERY LIFESPAN)
Up to 80% capacity for 3,000 cycles in recommended conditions. The typical SLA has 500 cycles. Dakota Lithium batteries last so long that the price per use is a fraction of traditional batteries.
OPERATING TEMPERATURE
Ideal for rugged & harsh environments. Much better than SLA or other lithium's. -20'F min, +120'F max optimal operating temps (battery performs well down to -20'F). Avoid charging below 32'F.
DISCHARGE
80 A max continuous, 100 A max pulse 10 second pulse.
CHARGE
25 A (0.5C) max, 30 V max. Included is a LiFePO4 compatible charger.
INCLUDES ACTIVE BMS PROTECTION
Contains a circuit that handles cell balancing, low voltage cutoff, high voltage cutoff, short circuit protection and high temperature protection for increased performance and longer life.
CERTIFICATIONS
All batteries are UN 38 certified. Dakota Lithium's cells are UL1642 certified and have been tested per IEC62133 standards. Meets all US & International regulations for air, ground, train, & marine transport.
ISO 9001:2015 CERTIFIED
Dakota Lithium is ISO Certified per 9001:2015 standards, and select models are produced in ISO 14001 certified facilities.
CHARGER INCLUDED
Single 24V 5A LiFePO4 charger included.
Experience the Dakota Lithium Difference
The DL 24V 60Ah battery is built with Dakota Lithium's legendary LiFePO4 cells. 3,000+ recharge cycles (roughly 8-10 year lifespan at daily use) vs. 500 for other lithium batteries or lead acid. Optimal performance down to minus 20 degrees Fahrenheit (for winter warriors). Plus twice the power of lead-acid batteries at half the weight.
Processing time
up to seven business days
Normally we use Fedex, UPS and USPS ground shipping.
Not available to Alaska or Hawaii
Estimated delivery time
~10 business days to United States
Brought to you by
AUTHORIZED DEALER
Thanks for shopping with us!
---
More from this collection