Dakota Lithium MARINE 4 BANK, 40-AMP (10-AMP PER BANK) 12V ONBOARD LITHIUM BATTERY CHARGER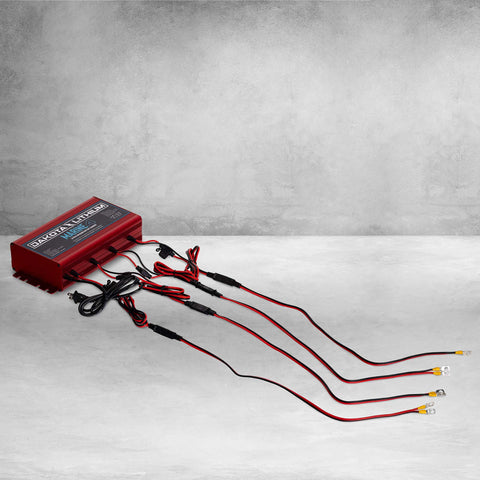 ULTRA FAST CHARGING FOR 12 VOLT DAKOTA LITHIUM BATTERIES
MARINE 4 BANK, 40-AMP (10-AMP PER BANK) 12V ONBOARD LITHIUM BATTERY CHARGER
Built for rugged reliability on and off the water, the Marine 4 is an onboard marine battery charger engineered exclusively for lithium batteries. With 4 channels/banks charging at 10 amps per channel/bank you can rapidly charge up to 4 Dakota Lithium batteries or any 12-volt lithium batteries, including marine, boat, starter, and deep-cycle batteries. This onboard charger is recommended for golf carts, trolling motors, RVs, or any battery bank where multiple 12V batteries are wired in series or parallel. By charging each battery independently this charger ensures your battery bank is balanced and fully charged every time — providing you with maximum performance and increased battery lifespan. Plus the ease of a waterproof charger installed onboard your vehicle saves you time and hassle every time you charge, giving you more time to do what you love. Designed for water this charger is double sealed, with a fully-sealed and waterproof onboard battery charger enclosed in a rugged and shock proof aluminum case with an ingress protection rating of IP67 for use in the coldest and wettest environments. Built for an extended lifespan this charger uses passive cooling to replace charger fans that commonly break with 4 aluminum fins that dissipate heat while providing enhanced shock proof and structural durability. Built for you. Built North Dakota tough.
Suitable for:
MARINE ONBOARD CHARGER
CHARGING MULTIPLE 12V BATTERIES
CHARGING ANY LITHIUM BATTERY
OPTIMAL FOR BATTERIES >20 AMP HOURS
ONBOARD CHARGER INSTALLED ON A BOAT, RV OR GOLF CART
LIFEPO4 COMPATIBLE CHARGER
LITHIUM TITINATE OXIDE (LTO) BATTERY CHARGER
SPECIFICATIONS
FOR 12 VOLT LITHIUM BATTERIES
We highly reccomend you use a LiFePO4 compatible charger. 12v chargers for lead acid batteries may work, but will decrease performance and lifespan of the battery.
CHARGER RATING
INPUT 100-120VAC, 50/60HZ. OUTPUT: 14.4 volts, 40.0 amps, 10 amps per bank / channel
TERMINAL CONNECTIONS
SAE connections make it easy to connect your charger to the battery. Install the ring terminals using the bolts on your terminals. Bolt black to your black terminal. Red to your red terminal. Do not short circuit. Then connect the charger via the SAE plug when you need to charge. Red light on the charger will turn on when charging. Light turns green when the battery is full.
SMART BMS COMMUNICATION
Charger will restart or "wake up" a Dakota Lithium BMS that has turned off a battery due to short circuit or excessive amp draw. Simply connect the charger to the battery to initiate a restart.
HOW FAST WILL MY BATTERY CHARGE?
Charges at a rate of 10 amps per battery (4 batteries supported). To determine your charging speed take the amp hour rating of your battery and divide by 10. For example, a 54 amp hour battery (Ah) would charge in 5.4 hours.
CAN I CHARGE MY BATTERY FASTER?
For most applications a charging time of 3 - 10 hours provides the longest lifespan for your battery. But if you have an application where you need rapid charging Dakota Lithium batteries can be safely charged in up to 1 hour (at a rate of 1C). For example, you could use a 20 amp charger with a 23 Ah battery for a 1 hour charge time. Charging at a 1 hour rate does reduce the lifespan over time. In our laboratory testing we found that the longest lifespan for Dakota Lithium batteries was at a charging speed of 0.3C or less (we recommend that the charger amp rating is 1/3 or less of the battery amp hour rating for longest lifespan).
WHAT VOLTAGE SHOULD LIFEPO4 BATTERIES BE CHARGED AT?
14.4 volts is recommended for Dakota Lithium (LiFePO4) batteries. This charger charges at 14.4 volts.
Processing time
up to seven business days
Normally we use Fedex, UPS and USPS ground shipping.
Not available to Alaska or Hawaii
Estimated delivery time
~10 business days to United States
Brought to you by
AUTHORIZED DEALER
Thanks for shopping with us! 
---
More from this collection