Products
400W 12V Poly Solar RV Kits, 40A MPPT Charge Controller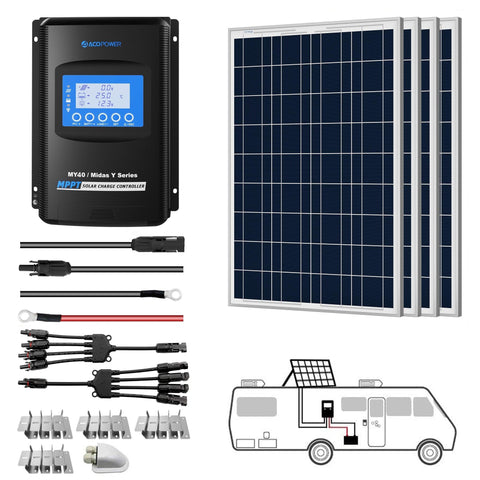 DESCRIPTION
Solar Kits are carefully arranged to meet your needs. Offers many benefits for homes, RVs, trailers, boats, sheds and cabins, Incorporating a small off-grid power system can give you greater travel independence and potential power cost savings.
Taking a trip in your RV can create lifetime memories. Don't let traditional gas powered generators or power hookups slow you down. This 400 Watt 12 Poly Solar RV Kit silently recharges your batteries so you can enjoy the great outdoors without the extra noise. Solar panels also allow you to run limited low watt electrical equipment without a power hookup.
Solar Starter Kit:400W solar panel kit is fully equipped, and the necessary accessories from input to output are covered in it, which is ideal for novice and customers who are looking for convenience.
This solar kit includes
4pcs 100W poly solar panel
40A charge controller
4 sets mounting z bracket
30ft 12AWG PV cable
8ft 8AWG tray cable
Cable entry housing
1Y4 branch connector
Ideal Choice for Permanent Installation: Advanced laminated technology and long-lasting ETFE material of 100W polycrystalline solar panel supports high light transmittance, scratch-resistant and easy to clean. And anti-reflection tempered glass and corrosion-resistant aluminum frame reinforces safety and impact resistance, which allows each panel to withstand high wind (2400Pa) and snow loads (5400Pa). Solar panel for rooftop is perfect for permanent or semi permanent installation.
Monitor & Protect Devices:40A MPPT uses maximum power point tracking technology and automatically regulates charging profiles relative to ambient temperatures, providing the best level of charge in any condition and protecting against over-charge, over-discharge, overload, and short circuit. User programmable for battery types, load control etc, via PC software or remote meter MT-50.
Wide Application & Compatible:Solar panel kit is designed for RV, cabin, rooftop, caravan, shed, greenhouse, boat, back-up and remote power use, which can be connected in parallel for 12V battery charging or in series for 24V battery charging. And compatible with lead acid, AGM, gel, and lithium batteries. 40A MPPT of 400 Watts RV kit allows expansion to 1040W in series and 520W in parallel.
25-year Power Output Warranty:We offer a 25-year transferable power output warranty on solar panels and 1-year warranty on rest of the kit components. These solar panels are factory-automated production without manual participation, so the probability of damage is low.
KEY FEATURES
Easy installation:With pre-drilled holes; each solar panel comes with 12AWG cable with MC4 male/female quick connectors
Hight Efficiency: 4PCS Polycrystalline solar cell efficiency: 14.35%; 40A MPPT charge controller peak efficiency: 99.5%
MPPT Technology: Solar Charge Controller has user adjustable settings! LCD Screen shows, voltage, solar panel status, battery state of charge, and DC load draw. See Image in photo gallery for all LCD Screen readouts. Compatible with lead acid, AGM, gel, and lithium batteries
Safe Operation:The system is equipped with multiple electronic protections; overcharge, overload, short-circuit and reverse polarity protections.
Reliable Performance:Electroluminescence tested solar modules for quality assurance.Bypass diodes minimize power drop caused by shade and ensure excellent performance in low-light environments.Corrosion-resistant aluminum frame for extended outdoor use.TPT back sheet dissipates excess heat, ensuring smooth output
Warranty: 25-year transferable power output warranty on panels and 1-year warranty on rest of the kit components
Green Solar System: Designed for RVs, cabins, homes, boats, back-up and remote power use. The two solar panels can be wired in parallel for 12V battery charging or in series for 24V battery charging
SPECIFICATIONS
200 WATTS ALL BLACK MONO SOLAR PANEL
Peak Power (Pmax):200W
Peak Circuit Voltage(Voc):24.3V
Max Power Voltage(Vmp):20.4V
Short Circuit Current(Isc): 10.2A
Max Power Current(Imp):9.8A
Wind resistance:2400pa
Weight:26.5 lb/12kg
Dimension: 54.72 x 27.56x 1.3 Inch
20A PWM SOLAR CHARGE CONTROLLER
 
Nominal system voltage: 12/24VDC Auto
Rated charge current: 30A
 
Battery input voltage range: 8V~32V
Max.PV open circuit voltage: 100VDC
 
Max.PV input power: 12V/390W, 24V/780W
MPP voltage range: V(BAT+2V)~72V
 
Working environment temperature: -25℃~+50℃
Storage temperature range: -35℃~+80℃
 
Enclosure: IP65
Dimensions: 228x164x55mm
 
Weight: 1.2kg
 
 
WARRANTY INFORMATION
Panels: The solar panel itself comes with a 5-year workmanship warranty and a 25-year 85% output warranty.
Solar Charge Controllers: The controller itself comes with a 1-year warranty.
Accessories: 1-year material warranty
Processing time
2 - 4 business days
Normally we use Fedex, UPS and USPS ground shipping.
Not available to Alaska or Hawaii
Estimated delivery time
4 - 8 business days to United States
Brought to you by
AUTHORIZED DEALER
Thanks for shopping with us!
---
More from this collection