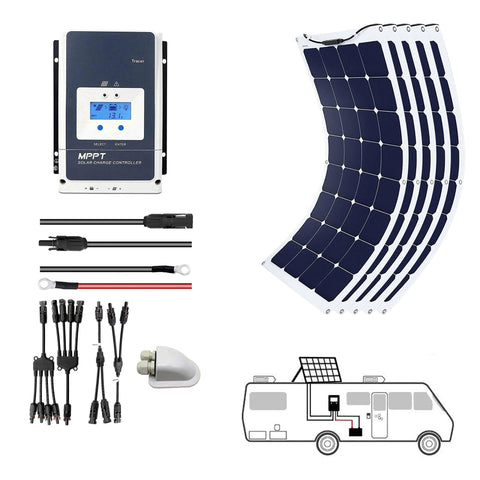 Complete kit includes:
5PCS 110 Watt 12 Volt Flexible Solar Panel
50A MPPT Charge Controller
30ft 10AWG MC4 Adaptor Kit
8ft 10AWG Tray Cable
Cable Entry Housing
1 Pair 1Y3 Branch Connector &1 Pair 1Y4 Branch Connector
Flexible and Portable : the thin solar film can be gently flexed to follow a smooth curve of 27 degrees max on a coach roof, RV, boat, caravan, cabin, tent, golf cart etc. Holes on panels are pre-drilled for fast mounting and securing, perfect for non-permanent installations ;Can be affixed by adhesive, grommets or Velcro (with which you can easily attach or detach the panels) ;Can be installed without costly structural roof reinforcements.
Powerful And Durable : made from Sunpower monocrystalline pv cells , the most efficient solar cells provider in the world. 21.5%-24% Higher-than-average Module Conversion Efficiency. ETFE Design longer life time of 15 years and is Scratches-protected and weather resistant.
MPPT Charge Controller: Advanced Charge Control Technology (MPPT) with high tracking efficiency no less than 99.50%; peak conversion efficiency of 98%; Ultra-fast tracking speed; accurately recognizing and tracking of multiple power point; 3-stage charge;Common negative grounding design. Easy Monitor and Operate: Multi-function LCD displays system information intuitively; User programmable for battery types, load control etc, via PC software or remote meter MT-50
25-year transferable power output warranty on panels and 1-year warranty on rest of the kit components
Specifications

110W FLEXIBLE SOLAR PANEL X5
Maximum Power at STC (Pmax): 110W
Open-Circuit Voltage (Voc): 20.8V
Maximum Operating Voltage (Vmp): 17.6V
Short-Circuit Current (Isc): 6.9A
Maximum Operating Current (Imp): 6.25A
Operating Temperature: -20ºC to 65ºC
Dimension: 1070x540x3mm / 44.7x21.3x0.12 in
Weight: 2.2kg / 4.85 lbs
MIDAS 40A MPPT SOLAR CHARGE CONTROLLER
Nominal System Voltage: 12/24VDC Auto
Grounding: Common negative
Rated Charge Current: 40A
Battery Input Voltage Range: 8V~32V
Max. PV Open Circuit Voltage: 100V (1) 92V (2)
Rated charge Power: 520W/12V 1040W/24V
MPPT Voltage Range: (Battery Voltage+2V) ~72V
RS485 Interface: 5VDC/200mA(RJ45)
Working temperature: -25℃~+50℃
Storage temperature: -20℃~+70℃
Terminals: Up to 6 AWG
Enclosure: IP33
Dimension: 10x7.28x2.67 in / 255×185×67.8mm
Weight: 3.75lbs / 1.7kg
WARRANTY INFORMATION
Panels: The solar panel itself comes with a 5-year workmanship warranty and a 25-year 85% output warranty.
Solar Charge Controllers: The controller itself comes with a 1-year warranty.
Accessories: 1-year material warranty
Processing time
2 - 7 business days
Normally we use Fedex, UPS and USPS ground shipping.
Not available to Alaska or Hawaii

Estimated delivery time
8 - 12 business days to United States
Brought to you by
AUTHORIZED DEALER
Thanks for shopping with us!
---
More from this collection